EONTGEN-L:


Introducing EONTGEN-L,
The Eastern Ontario History, Geography and Genealogy
Mailing List
EONTGEN-L is a 'no-cost' email based forum for subscribers to discuss aspects of the
history, geography, and genealogy of people, places, and events
from within the the entire eastern area of the Province of Ontario, Canada.
If you have access to a road map of Ontario, locate Toronto, our Province's Capital and principal city, and then travel north east along the north shore of Lake Ontario. When you've located the town of Trenton, draw an imaginary line northward toward Bancroft. From Bancroft extend your imaginary line almost due easterly toward the City of Ottawa, our Nation's Capital, which is located on the Ottawa River. In a generalized sense, everything south and east of this imaginary line, between the Ottawa River on the north and the St. Lawrence River and Lake Ontario on the south are included in the area that we normally designate as eastern Ontario.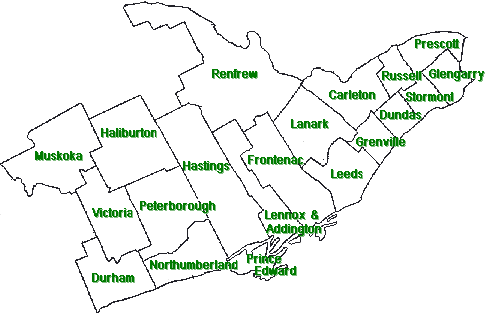 The following Counties fall within the eastern Ontario area:
Prince Edward; Hastings; Lennox & Addington; Frontenac; Leeds & Grenville;
Lanark; Stormont, Glengarry & Dundas; Prescott & Russell;
and Ottawa/Carleton.
But there is some overlap, and postings concerning
people, places, and events in
Northumberland, Peterborough, Haliburton,
Durham, Victoria, Ontario, and Muskoka Counties
are welcome
Note: Only subscribers are permitted to post messages to EONTGEN-L
(This is a SPAM proofing requirement)
Archive Files containing copies of all previous postings to EONTGEN-L are available
but again, only to valid subscribers.
- - - - - - - - - - - - - - - - - - - - / / / / /\ \ \ \ \ - - - - - - - - - - - - - - - - - - - -
---
Please contact the Listowner, Bruce Murduck, at
murduckb@post.queensu.ca
IMMEDIATELY
if you experience any difficulties with this List service!
---
(*NOTE: Renfrew County is ably covered by the Upper Ottawa Valley Mailing List
and we have no wish to duplicate coverage here).
---
Copyright 1997 - 2001, Bruce Murduck
This page set has been designed to be intentionally free of extraneous graphic images and with a reasonable degree of 'white space', thus permitting you to focus on the content, and to enhance download time and reduce costly connect time charges. The EONTGEN-L Pages are hosted on server space provided by Bruce Murduck, and maintenance is currently provided by
Jason Murduck.
(Created: 4 Sep 1997)
(Latest Revision: 29 Aug 2001)